Large titanium battery tie down kit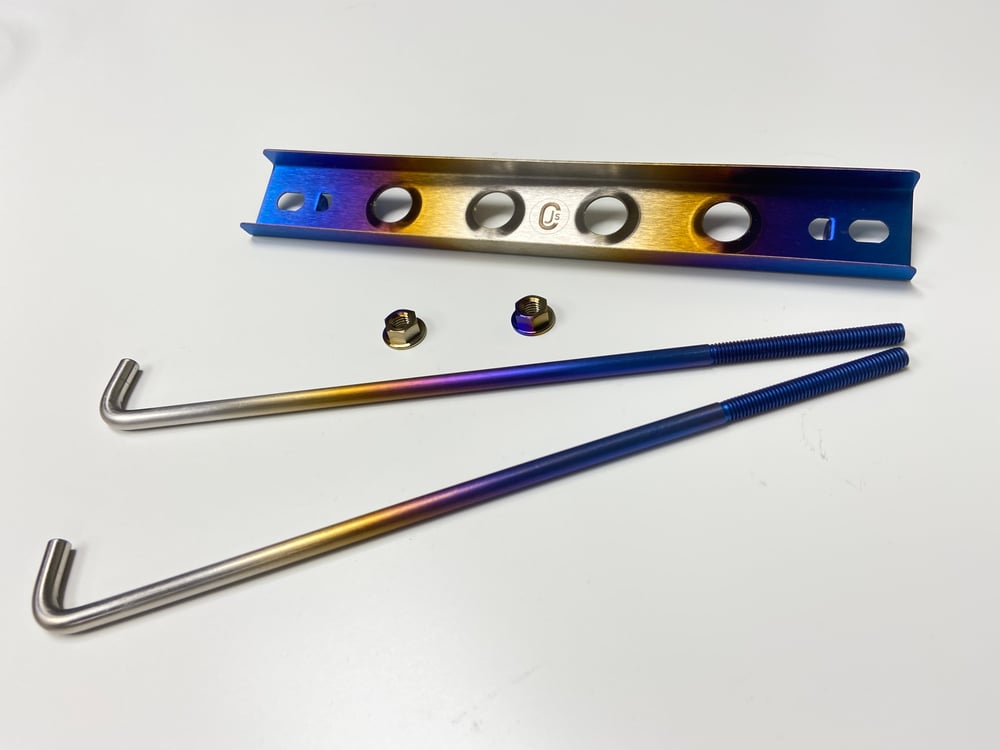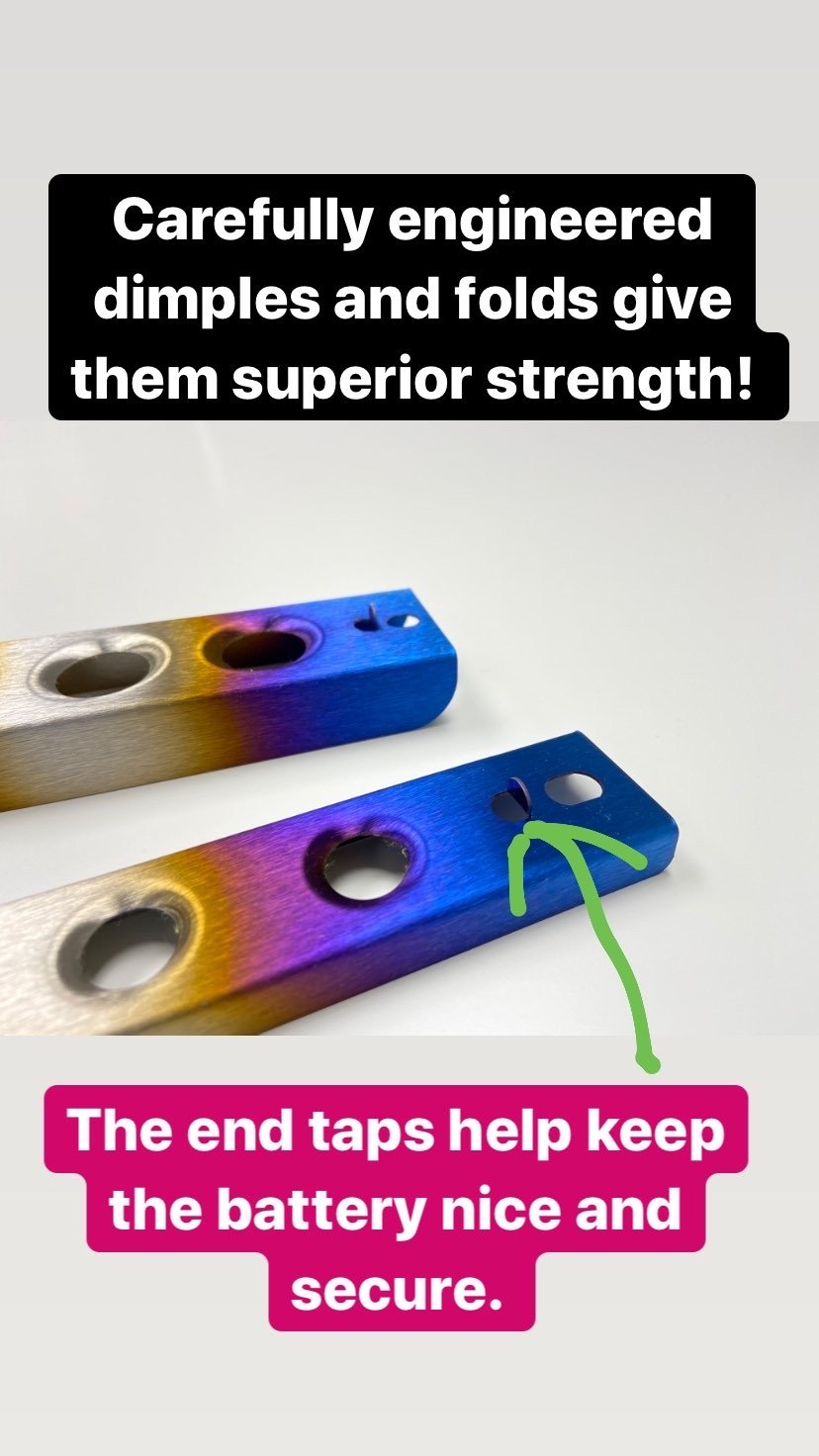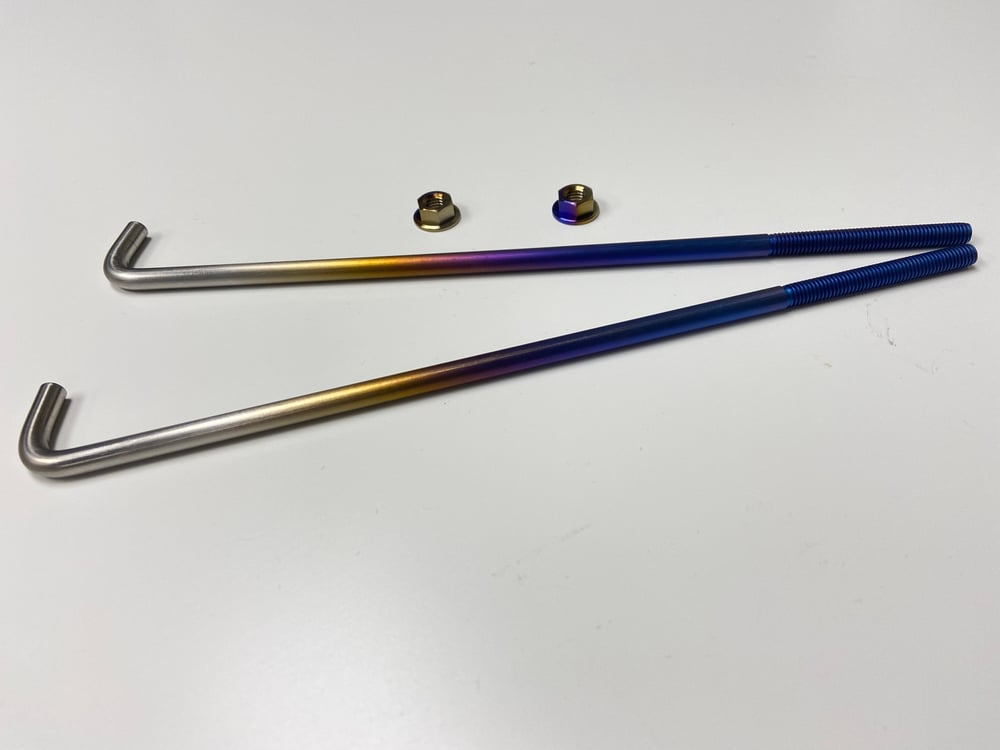 Please note: Custom length J hook rods option are final sale.
Kit includes:
Titanium Tie down plate
2x titanium J hooks
2x titanium nuts
Hooks ONLY:
Includes 2x titanium J hooks
2x titanium nuts
Please indicate in Notes the length(s) of hook
(Available from 3" to 9.5")
Titanium Battery Plate Spec:
Fits all flat top batteries that have a width of 5.25-6.25 inches. This is the shorter measurement from the top of your battery from side to side of the battery rectangular shape.
Designed for larger batteries such as Subaru, Nissan, Mitsubishi, and Optima. Please check our measurement below to insure correct fitment.
Designed and engineered on 1mm thick certified titanium for light weight performance.
Titanium rods spec options (measurement from bottom of bend hook up to top of thread)
Available in:
7 inch (from bend hook to top of the rod thread).
8 inch (from bend hook to top of the rod thread).
9 inch (from bend hook to top of the rod thread).
9.5 inch (from bend hook to top of the rod thread).
Custom rod option is available from 3" up to 9.5"
OEM FK8 battery tie down, please choose CUSTOM Rods 3" and 7"
Carefully placed dimples and bends give the tie down superior strength while remaining extremely light. Weighing in at just 1.3 oz.
To tie it all together (no puns intended) are the titanium tie down rods and titanium nuts that replace those ugly rusted out OEM ones. The rods are forged titanium and the threads are rolled and not cut for a lifetime of maintenance-free use. You can say we over-engineered everything for the fact that we want the parts to last a lifetime.
Available in titanium color finish as pictured or Ghost/Raw non-color. For Ghost finish, in the NOTES section at check out please write "Raw, non-color finish"
Free shipping within the US. For international customers, please drop us an email at [email protected] for a shipping quote.
Please note we are not responsible for rods breakage if they have been over torque.
California Proposition 65 Warning
***Please note that titanium and its color is a form of raw metal we advise that you do not use any cleaner with hydrochloric acid to clean your titanium as it will remove its color.
Picture are for reference: Titanium coloring is not a paint or pigment dye so at time the colors might not be as vibrant, titanium coloring is a natural metal process. We do try our best to get it as bright and colorful as possible. As every piece of titanium has it own characteristics.
How to care for your titanium:
https://www.instagram.com/s/aGlnaGxpZ2h0OjE4MTExMzQ0MTU4MTU5NTE2?story_media_id=2377351854752204127&igshid=YmMyMTA2M2Y=