Titanium lug nuts M14x1.5 fitment for (FK8, Tesla, etc..)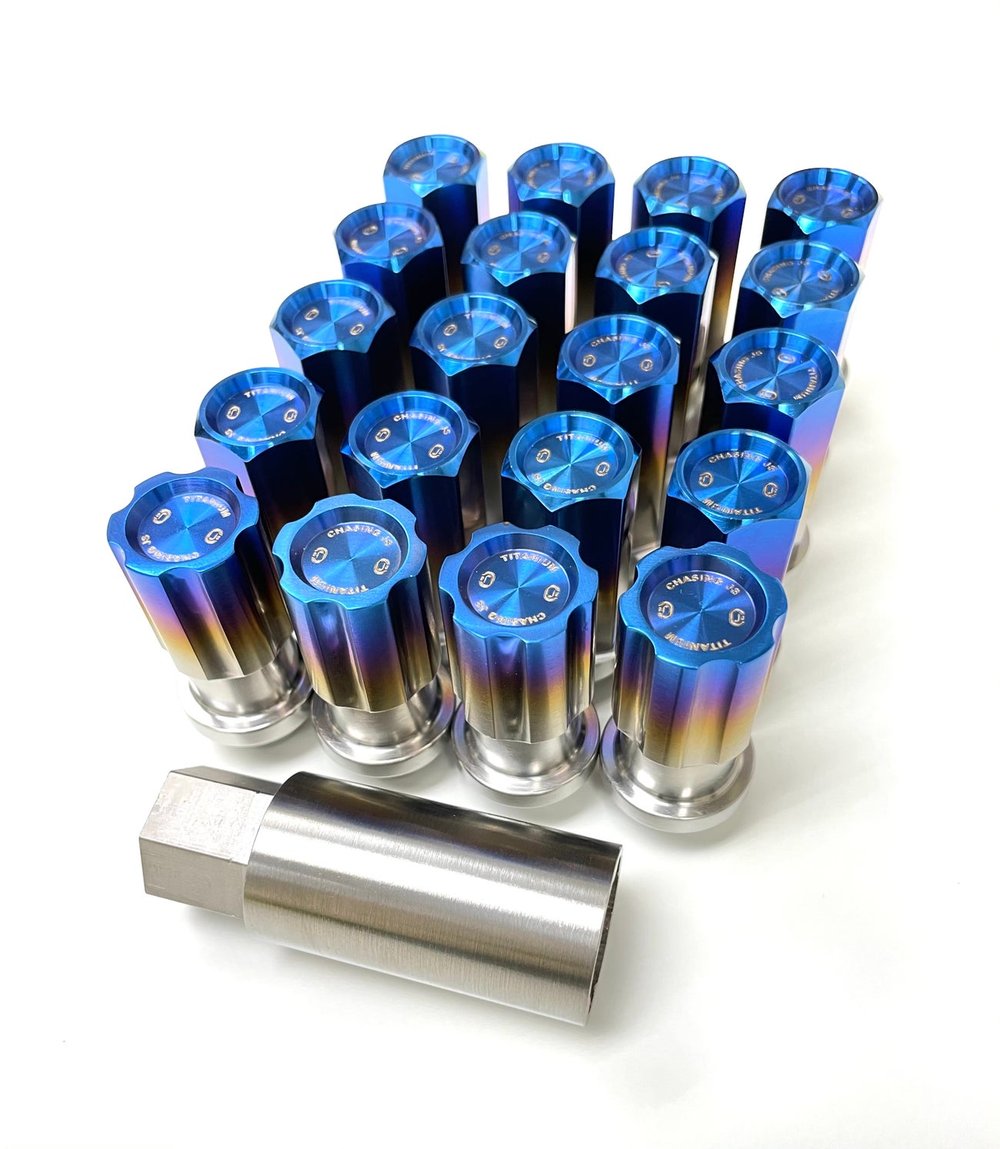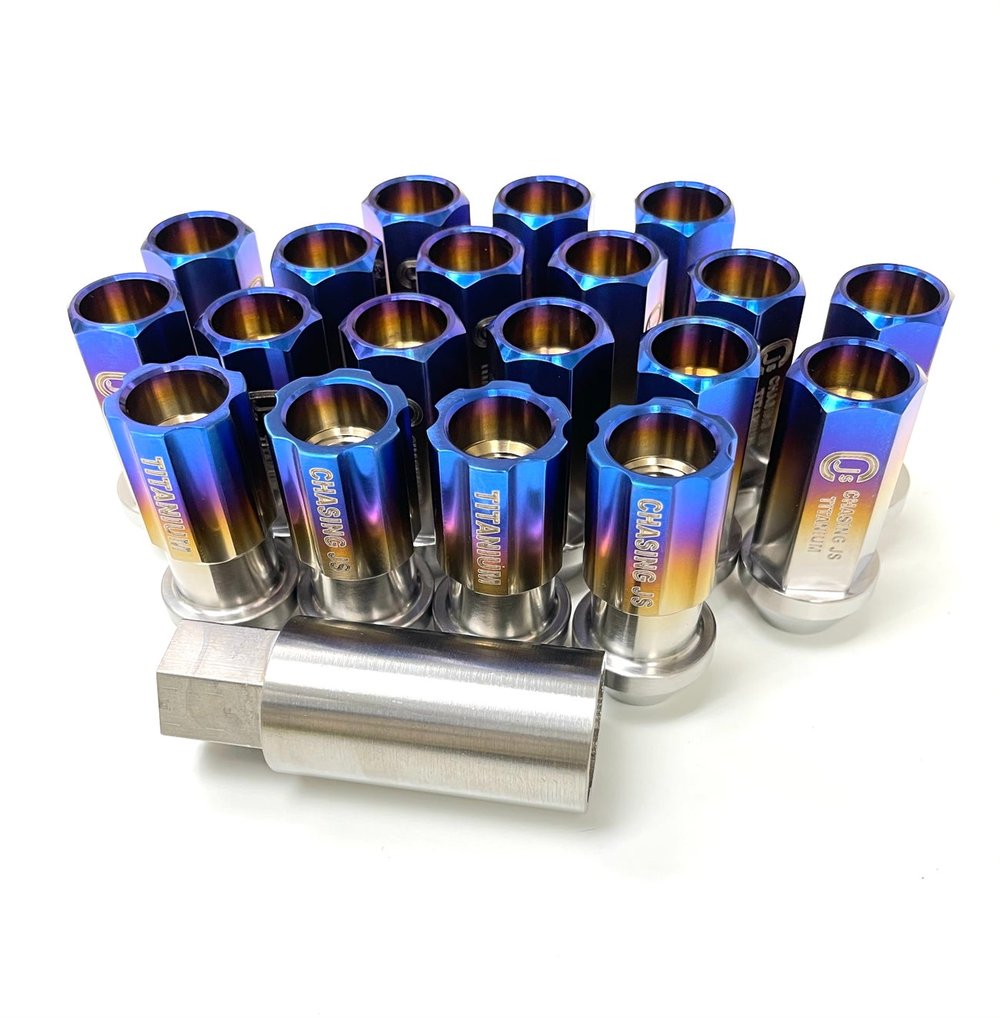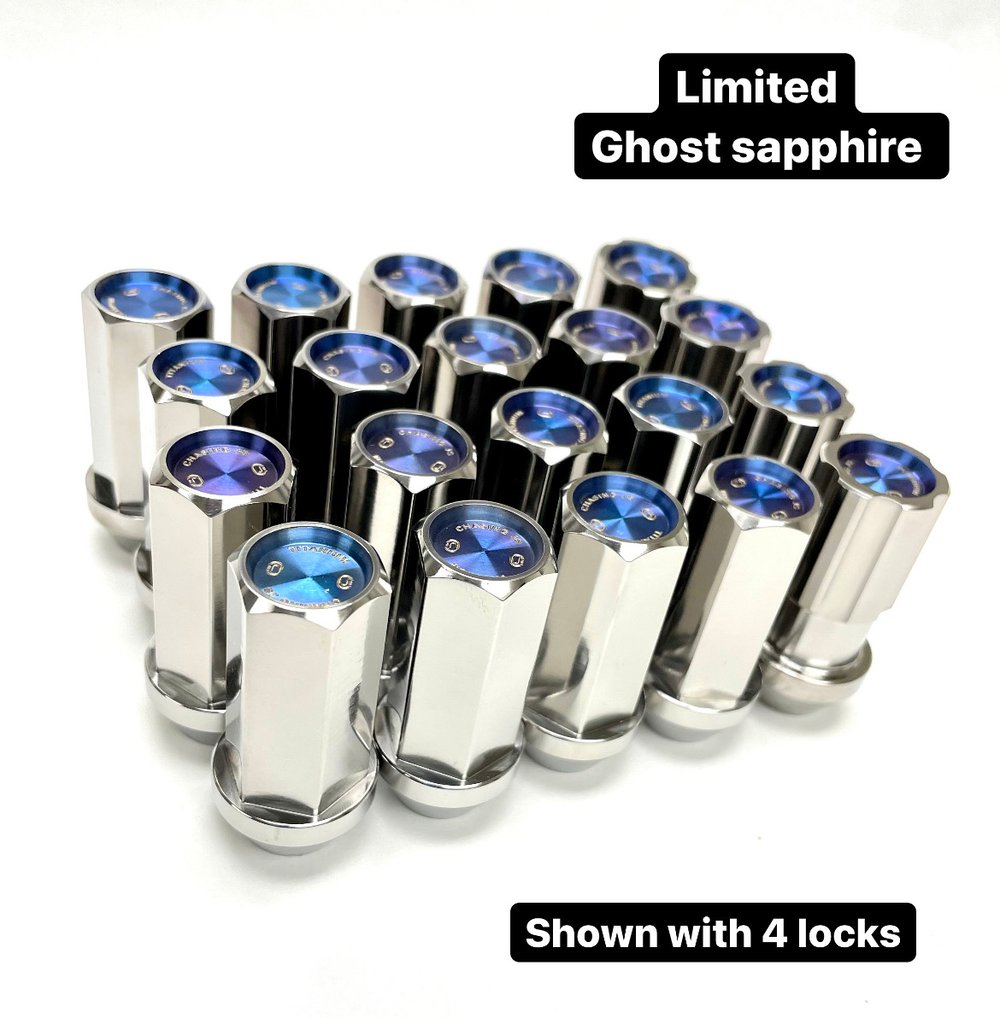 Click here for step-by-step video How to care for your titanium lug nuts: )
Make sure to check your thread size before ordering!!!!
Made out of super Forge Titanium Alloy, 60 degree tapered head for better wheel to nuts seating. 46MM Length from top to bottom. Super light and strong to help reduce wheel sprung weight. These lug nuts can be installed and removed by using a regular 19mm hex socket.
Closed end lug nuts are NOT DESIGNED FOR EXTENDED STUDS.
-Choose opened end if you wish to run them with extended studs.
Chasing JS Gold engraving.
***Ghost Sapphire sets are limited to 2 sets per run.
IMPORTANT: this is just a reference, check your size before ordering.

For Vehicles with M14x1.5 thread, set of 20 lug nuts. (FK8 Civic Type R, Tesla, Mustang, BMW, etc...)
NOTE: LUG NUTS ARE MADE WITH TAPERED BOTTOMS SPECIFICALLY FOR AFTERMARKET WHEELS. DO NOT USE THESE TUNER LUGS FOR YOUR FACTORY /OEM WHEELS. WE NO LONGER ACCEPT RETURNS ON LUG NUTS FROM CUSTOMERS WHO ATTEMPT TO USE THEM ON FACTORY WHEELS. THESE LUGS ALSO DO NOT FIT ON SPECIAL WHEELS THAT REQUIRE INVERTED LUGS. WE WILL ALSO NOT ACCEPT RETURNS FROM CUSTOMERS WHO TRY TO USE THEM FOR THESE TYPES OF WHEELS.
Titanium lug nuts should be torqued to OEM spec, adding a small bit of white grease to the oem wheel studs will always aid with wheel stud rusting.
We recommend re-torquing your titanium lug nuts every 2 months to make sure it is at the correct torque spec.
***Please note that titanium and its color is a form of raw metal; we advise that you do not use any cleaner with hydrochloric acid to clean your titanium as it will remove its color. We do not warranty the damages to the coating once the lug nuts are installed, used, or washed. Also, DO NOT USE ANY CLEANER THAT TURN FROM CLEAR TO PINK or IRON REMOVER!!!!
Free shipping in the US! International customers if your country is not listed please email us for a shipping quote. Info@chasingjs.com
CA Proposition 65 Warning
Picture are for reference: Titanium coloring is not a paint or pigment dye so at time the colors might not be as vibrant, titanium coloring is a natural metal process. We do try our best to get it as bright and colorful as possible. As every piece of titanium has it own characteristics.
Click here for step-by-step video How to care for your titanium lug nuts: )